Department Student Advisors (DSAs) are senior majors who are nominated by the departments and make themselves available to students to answer questions about the department. They know firsthand what it's like to be in the major. They are available via email and at special campus events to answer your questions.
2019-2020 DSA:
WHAT ERIN WANTS YOU TO KNOW:
Professors truly want you to learn and succeed and are always there to help. There's also great camaraderie among students.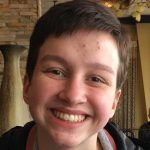 Reach out to your professors! Talk to them about research or discuss life after K. Also make sure to ask the about their experiences. Sometimes hearing what someone else's journey was like can help you with your own. Additionally, I recommend popping into the MPC, the math and physics enter. You can find some amazing tutors, and it's a great place to work on or get help with physics (and math)!
It is okay to take care of yourself, both mentally and physically. If you're sick, then it's okay to rest. If you're having a hard time mentally, then it's okay to reach out and set time aside for that. There's nothing wrong with needed to set aside time to take care of yourself, in whatever way you may need to.